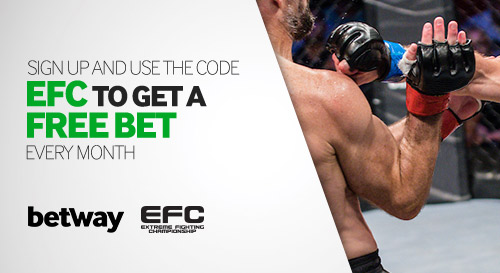 Get a Free Bet every month
Sign Up with EFC

How it works

The Betway EFC FREE BET OFFER awards customers with at least R25 which is credited as a Free Bet provided they have placed 1 bet to the value of R50 at odds of 1.5 at least 24 hours before each Live match day in order to qualify
Terms and conditions apply.

Terms and Conditions

Terms and conditions of the promotion
The EFC Free Bet is only valid provided:
This offer is only available to new Betway customer who do not have an existing Betway account
Customer must place bets of R50 at odds of 1.5 odds or higher each
The Free Bet will only be paid once the customer has fulfilled the monthly bet requirements.
The awarding of Free Bets is done entirely at the discretion of Betway
Standard terms and conditions apply.
At least 1 bet in the betslip must have resulted (win or loss) for the wager to count towards the betting requirement of the EFC offer
The offer expires 31st January 2020
Free Bets don't have any hidden requirements. Customers who place bets using their Free Bets will receive any and all winnings (minus the initial stake) and that amount will reflect in their cash balance – ready for another bet or to be withdrawn.
These terms and conditions govern your participation in any "Free Bet" promotions offered by Betway. If you do not agree with these terms and conditions, you are not permitted to participate in such promotions and you should not accept any Free Bet offered by us.
Definitions
:
Betway Account: This is the account that you registered with Betway. This account will consist of both your Cash balance and your Free Bet balance.
Free Bet: Betway runs various promotions which may offer "Free Bets." Any Free Bet that you qualify for will be added to your Free Bet balance, and can be used to place wagers.
Cash: This balance is the cash in your Betway Account, and can be used to place wagers.
A Free Bet can only be used to place wagers, and cannot be transferred, substituted or exchanged. Any available Free Bet balance cannot be withdrawn.
Betway's general Terms and Conditions shall apply to all interactions with Betway, and must be read in conjunction with all other terms and conditions relating to promotions. In the event of a conflict between these Free Bet Terms and Conditions and Betway's general Terms and Conditions, Betway's general Terms and Conditions shall prevail.
A Free Bet is available for a maximum of 180 days from the date that the Free Bet was credited to your Betway Account. If not used, your Free Bet will automatically expire after 180 days and will be removed from your Betway Account (unless specified otherwise in specific promotional terms).
Any Free Bet balance must be used in its entirety as a single bet. This single bet can include single selections or multiple selections in one bet.
Should the Free Bet be placed on a selection that is later voided, the original Bonus Bet wagered amount will be returned to the your Betway Account.
The Free Bet is non-refundable and the Free Bet wagered amount is not included in any winnings. Only the winnings will be paid to your Betway Account.
The maximum return on any Free Bet apply
If you make a withdrawal, any Free Bet balance you have available will be forfeited.
Before any withdrawals are processed, your play will be reviewed for any irregular playing patterns. Using a combination of bets which include both a Free Bet and Cash on the same event to place equal, zero or low margin or hedge bets, shall all be considered irregular gaming for Free bet requirement purposes. In the interests of fair gaming, should Betway deem that irregular game play has occurred, we reserve the right to withhold any withdrawals and/or confiscate all winnings.
Your total account balance consists of a Cash balance and a Free Bet balance. Withdrawals cannot be made from the Free Bet balance, but the Free Bet balance can be used to place wagers.
This offer is only available to accounts opened after 28 September 2019
Should you require any clarification or advice regarding these Terms, please contact Customer Support.