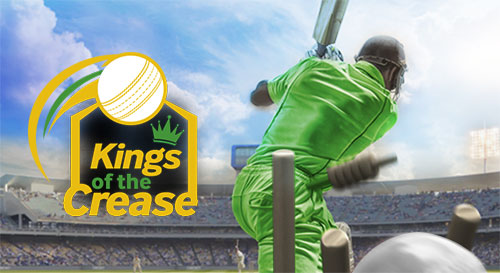 Bet on the Kings of the Crease
and stand to win amazing weekly prizes
From 30 May to 14 July 2019, fans from all over the world will be glued to their television sets as cricket's greatest global spectacle takes place.

Each week, we'll be giving away awesome prizes, including cash, Extra Bets and real world prizes, on selected games.

How it works

To enter, simply bet on any of these selected fixtures each week to go into the lucky draw to win one of the weekly prizes up for grabs.
Promo 1:
England v South Africa
South Africa v Bangladesh
Promo 2:
South Africa v India
South Africa v West Indies
Promo 3:
South Africa v Afghanistan
New Zealand v South Africa
Promo 4:
Pakistan v South Africa
Sri Lanka v South Africa
Promo 5
Cash bets only.
Terms and conditions apply.

Prizes

South African team jersey
Cash prizes
1voucher coupons

Terms and Conditions

From 30 May to 14 July, 2019, Betway is giving you the chance to win some awesome weekly prizes while we back the national team in this year's global cricket spectacle.
To qualify for the weekly prizes, you need to place at least one bet on our selected cricket fixtures to go into the lucky draw to win.
A valid Betway account is required to participate in this promotion.
The promotion is only open to persons who are natural persons, 18 years or older, and either South African citizens or permanently reside in South Africa.
If an Extra Bet is applicable, this will be deposited into the winners' Betway accounts and are subject to all terms and conditions relating to the withdrawal of such funds.
All entrants who participate in the promotion and successfully comply with the terms and conditions of this promotion, and the Betway standard terms and conditions, have the opportunity of winning the weekly prize.
Betway will continuously monitor any irregular behaviour. Consequently, any violation or attempt and/or suspicion of violation or irregular behaviour and/or non-compliance with these Terms and Conditions will result in immediate disqualification of the participant.
Betway, their directors, employees, agents and distributors, are not responsible for any misrepresentation (whether written or verbal) in respect of any Reward nor in respect of any warranties or undertakings given by any person other than the Promoters themselves.
Standard participation requirements and terms and conditions apply.
All entries from disqualified participants' cellphone numbers will be rejected.